We Provide Real Benefits in a Virtual World
A quick walk through a neighborhood mall will reinforce the fact that traditional retail is getting smaller and retail outlets are stocking less. As virtual sales increase, a store's brick and mortar presence is sometimes the least effective representation of their business. However, there are still some real benefits to having a physical location, even if all your sales come from the virtual world.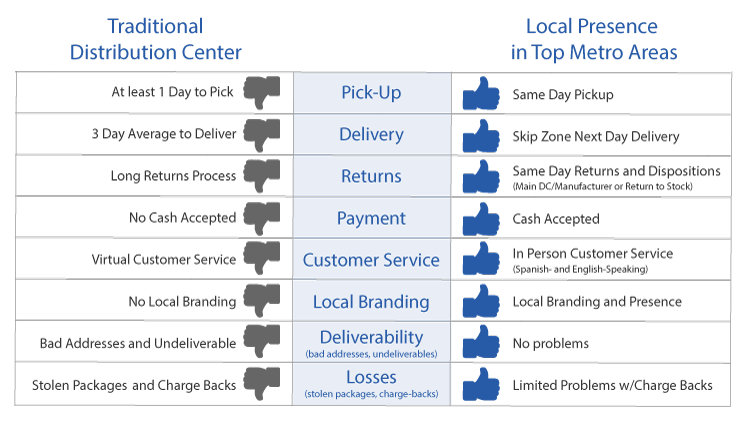 This is where Cura Group comes in. Our Sales Centers are an idea whose time has come. What can a physical location do for your business?
Reduce Cost. Working with Cura to build, operate and manage your Sales Centers cuts costs. Our labor and overhead costs are generally much lower than larger companies, which means savings for your bottom line.
Avoid Delivery Issues. As virtual sales and the subsequent package shipments increase, there are still some customers who have trouble receiving packages through traditional delivery services. Whether it's not convenient to receive a package at home, or a customer wants to avoid delivery in an unsafe neighborhood, providing a location where your customers can pick up their orders not only enhances your ability to provide top-tier customer service, but also broadens your potential customer base.
Increase Convenience. When a product is hot, it's hot. Distributors want the product today, not in three days' shipping time. In addition, by picking up products in person, customers can pay cash and avoid credit card fees. And, having hot inventory in hot markets where distributors can get to it can increase sales.
Save Time. We are experts in opening new markets. We can map, prospect, build, train, and staff a new facility within just a few months, taking the burden off you as you continue to manage the core functions of your business.
Enhance Credibility. In spite of the popularity of virtual – and even mobile – shopping, for a lot of people, seeing an actual building adorned with a company's name and logo evokes stability.
Improve Quality. With a trusted outsource partner like Cura Group delivering consistent and dependable local distribution results, your focus can remain on your business, enabling your company to provide the best experience for your customers – from their first contact through product delivery.
Having a strategy of placing your fastest moving products into the local market will make your sales soar! Contact Cura today to discuss the impact a local Sales Center could have on your business.