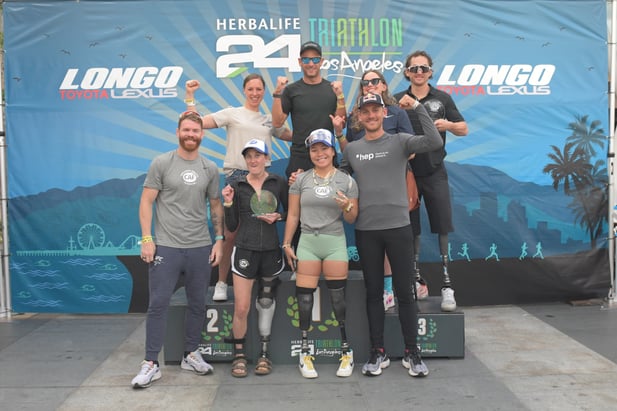 CURA Resource Group is a Proud 3-time Sponsor of the Herbalife24 Triathlon Los Angeles
By the closing ceremonies of last weekend's third annual Herbalife24 Triathlon Los Angeles®, it was obvious the race has officially earned its standing as one of the most exciting new athletic traditions in L.A, a city already obsessed with sports, health, and fitness.
The biggest field of elite international athletes yet (including 50 professional triathletes) arrived in the city last week to compete for a $100,000 prize, the largest in the event's history. In all, more than 2,000 entrants came to Southern California to test their endurance on the Olympic-rated course.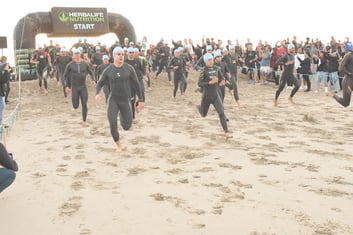 The race, which began with a brisk 1,500-meter swim in the Pacific Ocean, was followed by a 25-mile bike ride from the beach to the heart of Los Angeles and a 6.2-mile run through downtown. It was broadcast in over 100 countries.
Planning & Logistics
The Herbalife24 Triathlon is one of the only urban point-to-point courses in the nation, in part because it takes a huge commitment and a lot of know-how to bring a race of this stature to a major metropolitan area like Los Angeles.
To make it work, the city shuts down its famed streets and freeway ramps to accommodate the racers and the shuttle buses and bike valets that carry their gear. Then, local entertainers help create a unique traffic-free experience for spectators along the route. By late afternoon, the festivities finally wind down at the finish line with more live music and an area where visitors can sample Herbalife products.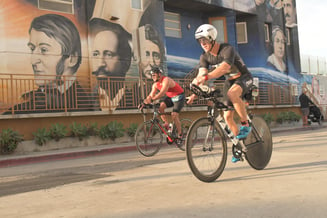 Cura Resource Group signed on to sponsor the Herbalife24 Triathlon when the company first announced it would bring a professional-caliber athletic event back to Los Angeles because managing last-mile logistics in urban environments is what we do. Our CRG volunteers were onsite at race venues before, during, and after the triathlon to help direct the flow of gear and Herbalife Nutrition merchandise from the loading dock to the finish line.
It's hard to appreciate how much skill and planning it takes to produce an event on this scale in one of the world's busiest cities, but going above and beyond to get products to customers in congested city neighborhoods is nothing new for us – it's what we do every day.
Hometown Pride
Los Angeles is home to CRG client and global fitness company Herbalife Nutrition. Last year, Herbalife's CEO Michael Johnson remarked that he takes great pride in hosting a triathlon in his company's own backyard. "Our business is for everyone who lives a healthy, active lifestyle, and this event is about our community. It's really something special."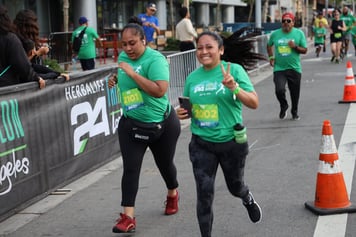 That's why we're proud to be part of this world-class celebration that unites L.A.'s diverse neighborhoods in a spirit of healthy competition. And why we thank all of our Cura Resource Group employees who stepped away from their regular duties at Herbalife's Riverside Quick Response Center for the third year in a row to assist the athletes who participated in individual, team, and corporate events.
We congratulate elite winners Jamie Riddle and Olympian Vittoria Lopes, as well as the thousands of Angelenos who came to cheer them on.
Athletes from around the world took to the streets of Los Angeles to compete in the triathlon, bike tour, or 5k. Thousands of spectators on the sidelines cheered the athletes on, and we thank them, our partners and sponsors for making this a successful event." - Ibi Montesino, SVP and managing director for Herbalife Nutrition North America Region.
About Cura
Cura Resource Group is in the business of building and managing local distribution centers in traditionally hard-to-serve communities. Besides Los Angeles, we operate in major U.S. cities, including New York, Chicago, Miami, San Francisco, and Houston. We also have successful sales and distribution centers in Puerto Rico.
Our model combines the strongest assets of online and in-person order and fulfillment services in one place. Our roots are in last-mile logistics, and we're known for opening fully staffed turn-key operations that make it easier to deliver fast-moving, time-sensitive inventory to customers in challenging locations like busy airports and congested urban neighborhoods.
Contact us today to find out if we're the right last-mile supply chain partner for you.