Embracing New Ways of Working



Coronavirus is a devious enemy. It's invisible, it's persistent, and it seems to be everywhere at the same time. At Cura Resource Group, we're not taking any chances when it comes to the health and safety of our families, our employees, and our customers. We've been following all CDC guidelines regarding sanitation and personal protection since the early days of the COVID-19 outbreak.
We're also following the advice of global health experts, including the World Health Organization, the Center for Disease Control, and the World Cancer Research Fund, who agree that good nutrition is essential to maintaining a strong immune system. Eating right, they say, diminishes the risk of developing underlying health conditions, like obesity and heart disease, that make us more vulnerable to the worst outcomes.
There are steps we can take to beat this virus. CURA Group is responding to the pandemic with innovative ways to process orders for direct-to-consumer (DTC) businesses, and our goal is to make local fulfillment during COVID-19 as fast and hassle-free as possible.
Advance Will Call Technology Simplifies Social Distancing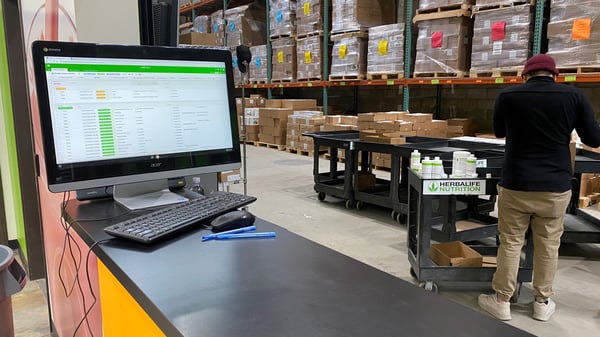 I first told you about Advance Will Call (AWC), CURA Group's proprietary mobile pre-order system, back in May. At the time, I said we couldn't possibly have foreseen how useful this program would turn out to be when we launched it last March. That's even more true today.
We specifically designed the AWC online order system as a way to have products ready and waiting before distributors arrive to pick orders up at a local sales center. We knew it would save customers time if they could fill out a form with a few clicks and get notified by text when their order was ready. We didn't know it would also turn out to be a quick and safe experience to help customers and staff maneuver through a pandemic.
Distributors say the best thing about Advance Will Call is the convenience. There's no wait time standing in lines at the sales center: they can come by at off-peak hours to avoid crowds and it's a perfect way to maintain social distancing.
Our employees view AWC as a long-awaited technology upgrade that creates a no-hassle environment where it's easy to fill orders and feel protected throughout their shifts. Having a head-start with efficient buy-online-pickup-in-store/pickup-at-curb procedures meant we never had to close our sales centers: it was just a matter of educating more people on how to use online ordering.
Customers love the simplicity of being able to submit orders from the comfort of the their home and receive a text alert when it's ready for pick-up." - Jazmine Guitron, Manager, CRG Riverside
We Take Safety Seriously
Above all else, we are committed to keeping everyone at our sales centers in Los Angeles, Puerto Rico, New York, and beyond, healthy and secure.
We're cleaning high-touch areas more frequently and actively promoting social distancing. We're taking temperatures, washing hands, and requiring facemasks for all staff and customers (we'll provide them at no cost if necessary.) In short, we're following COVID protocols to a tee. With Advance Will Call, we can even place orders directly inside the customer's vehicle to avoid all contact if they feel uncomfortable in any way.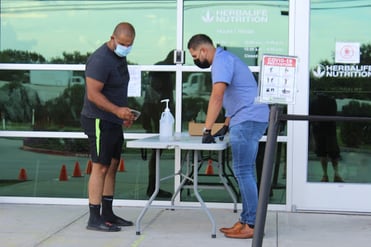 For the most part, customers are adjusting to our new process. As time goes on, they're gaining a greater understanding of the policies put in place for everyone's safety. The hardest thing for us all to remember is that the decisions we make in our personal lives can affect every member of the team because we're all in this together.
Local Sales Centers are Busier Than Ever
Since the coronavirus emerged, CURA Group has focused on keeping lines of communication open with our local sales centers to make sure we all get through these confusing times together.
Our business has actually increased in many locations over the past six months as people who lost jobs find themselves looking for new sources of income. Direct sellers offer motivated individuals an opportunity to use their management and sales skills to take charge of their own future, and we're seeing an uptick in new customers with bigger average orders than before the pandemic.
With the switch to 100% online orders and curbside pickups, independent distributors are relying more heavily on our local customer service teams for information about product availability. Before the pandemic, when items were readily available and they could drop by in person, many customers relied on same-day pickup so they wouldn't have to keep inventory on hand. Now, they have to be a lot more strategic about advanced planning.
When Will You Be Back?
Our staff is fully invested in making sure our operations continue to run smoothly. They often work extra hours to educate customers about new COVID procedures. Distributors know we're doing all the right things to fill same-day orders and make curbside pickup as safe as possible, yet the number one question we get asked is, "When will you be ready to open and start taking walk-in orders again?"
The truth is our local sales centers do much more than fulfillment. We also provide a convenient, welcoming place for distributors to learn about new products, make returns, and connect with a community of their peers. Those connections are valuable and hard to replace.
Our New York and New Jersey members come not only to pick up products; they visit this location because of the warm relationships they've built with our team. We're a family-oriented business; it's hard not being able to give the full customer experience." - Richard Ruiz, Manager, CRG New Jersey
Our Local Delivery Model is a Competitive Advantage
In 2019 we were proud to be a sponsor of the Herbalife Los Angeles Triathlon, one of the premier urban athletic events in the U.S., when it returned to the city after a three-year hiatus. We expected to sponsor it again in 2020, but COVID-19 had other plans and the race was postponed. Undeterred, many athletes changed their routines and moved all their training outdoors to prepare to compete in Los Angeles next year instead.
We are also adapting and staying competitive by working closely with local communities to keep DTC distributors in the game. We pioneered many of our safety procedures in Puerto Rico, where the lockdown was stricter than any in U.S. cities. Then, working together, our sales managers all over the country came up with a plan that takes local regulations into account, state by state, and executed in a way that ensured we could keep our doors open.
The pandemic has had devastating effects on many parts of the economy. We're fortunate to have an internationally recognized health and nutrition company as one of our largest clients. In some places, we've hired additional staff and adjusted our sales and service operations to handle higher volumes without missing a beat; CURA staff feel secure they can come to work tomorrow and we'll still be here.
For now, the 2021 Herbalife L.A. Triathlon is a bright spot on our horizon. Like everyone else, we can't wait to get back to a more "normal" way of doing business. In the meantime, we're determined to outlast this pandemic by staying as healthy and positive as we can given the circumstances, and doing everything we can to keep moving forward.
About Cura Group
Cura Group helps retailers navigate local distribution challenges by building and managing fully-staffed Sales Centers. We currently operate in New York City, Chicago, Houston, Miami, Los Angeles, and Puerto Rico. Contact us today to discuss a local strategy to get closer to your customers and make product access a more positive experience.