The return of the Tokyo Olympics & L.A.'s Herbalife24 Triathlon

Imagine for a minute that you're the person in charge of logistics for the 2021 Olympics in Tokyo, Japan. You know the international spectacle is already the biggest transportation and delivery challenge on the planet in a normal year. And now there's COVID.
Can The IOC pull off another world-class event?
There's no way around it - the added complexities of enforcing COVID protocols and precautions will make this month's Olympic Games one for the ages. More than 11,000 athletes from over 200 countries will live and play together for nearly two weeks. If housing and feeding them isn't already hard enough, now the International Olympics Committee also has to worry about who might have been exposed to, or is currently infected with, COVID-19. The potential for disappointment looms large.
The IOC is doing everything it can to ensure that everyone stays safe. But they can't control the planes, trains, and automobiles their athletes will arrive in, nor can they guarantee that Tokyo's local population will be able to maintain a safe and healthy social distance from Olympic lodgings and sports venues.
If they can deliver a successful virus-free event of this scale in the world's most populous city, they will have landed one of the greatest logistics routines ever. We give it a solid 10-out-of-10 for difficulty and execution.
The Herbalife24 Triathlon is back!
Closer to home, we're thrilled to announce that Cura Resource Group is a returning sponsor of the
Herbalife24 Triathlon Los Angeles
, another world-class athletic competition in
a uniquely urban environment. L.A. may not be as congested as Tokyo, but it still takes an inordinate amount of expertise and pre-planning to make an event like this run (and swim, and bike) smoothly.
In May 2019, CRG provided storage and shipping for thousands of goodie bag items distributed at the inaugural Herbalife24 Tri. At the time, it was the first triathlon in the city in over three years. On race day, our employees picked, packed, and hand-delivered hard-earned swag to happy triathletes from around the world. Herbalife already had plans for a return triathlon in 2020, and then when COVID hit, the date was moved to May 2021. The pandemic had other plans, though, and the date was moved again to October 24, 2021. Finger's crossed it's a go!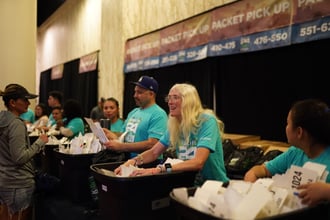 Why we love supporting Los Angeles athletes
Los Angeles is one of our largest and most diverse markets. We've been fulfilling thousands of orders at Herbalife's local sales centers in Riverside and San Jose for years now, and we know from experience that a brick-and-mortar alternative to traditional last mile delivery has real benefits in cities like L.A.
Independent Herbalife distributors tell us they appreciate convenient physical locations that let them pay with cash, make returns, and speak with bi-lingual customer support reps. Parent company Herbalife Nutrition benefits from a cleaner and safer delivery solution that reduces emissions (fewer trucks on the street) as well as porch piracy. All our services are based on a time-saving 'build-operate-manage' philosophy. It's a cost-effective way to enhance your business by expanding to physical locations without the traditional investment in real estate and location development.
We're fortunate to have an internationally recognized health and nutrition company as one of our largest clients. And we're big fans of the Herbalife24 urban triathlon format that promotes living an active lifecycle while celebrating one of our greatest cities. We're looking forward to welcoming this year's competitors in October. There's still time to register, if you're up to it!
About CURA Resource Group
CRG specializes in helping retailers build and manage local distribution centers in traditionally hard-to-serve urban communities -- they're better for your customers, better for the planet, and better for your bottom line.
Contact us today to find out how a high-volume neighborhood sales center can help you provide better omni-channel customer service in your city.
Related Blog Posts: