It turns out that all commerce is local commerce after a year of global pandemic.
By now, it shouldn't surprise anyone who follows retail trends that "omnichannel" was the biggest buzzword of 2020, largely due to the fallout from COVID-19. Why did omnichannel retail suddenly come to the fore? Because last year's rogue virus made everything about our everyday lives harder, so we appreciated and rewarded any business that made it easier to keep buying things we still needed and wanted.
The retail industry defines omnichannel as "efforts to provide a coordinated customer experience across all possible customer channels, using consistent, universal data" (Informatica), or "an approach to sales and marketing that provides customers with a fully-integrated shopping experience by uniting user experiences from brick-and-mortar to mobile-browsing and everything in between." (Shopify)
What does it mean to the rest of us? Succinctly put, "omnichannel" equals "options." When stores closed and we found ourselves confined to our homes, we suddenly wanted new and safer ways to buy things closer to where we live. Now, a year later, we don't want to choose between online and offline or local vs. big box. We want every e-commerce experience to be as convenient as jumping in our cars to grab something at a neighborhood brick-and-mortar store, which means all commerce is local commerce.
As a result of our new expectations for just about everything, we offer five reasons why every merchant needs to rethink their local delivery model:
Better digitized store operations and lower operational costs.
Everything about the way most stores operate is different now. Safety & hygiene are top priorities for both employees and customers. 71% of respondents to a recent survey by Retail TouchPoints said they rolled out contactless payment or digital POS technology last year. 62% think mobile technology is increasingly important to train employees about new health and cleaning procedures, as is the use of mobile devices to manage staff schedules. And almost ½ of respondents said that managing expanded curbside pickup is a top challenge as the amount of time spent on store-based fulfillment is increasing.
These adjustments come at a cost: 64% say managing overall store operations budgets to provide a safer shopping environment is their top concern. Online sales are generally less profitable than in-store sales, in large part because shipping costs for home deliveries and returns are high. Savvy retailers should be considering less expensive last-mile delivery options such as walk-in distribution centers and secure package lockers.
2. "Click & Collect" benefits merchants and consumers.
BOPIS (buy-online-pickup-in-store) and BOPAC (buy-online-pickup-at-curb) are examples of merchants' efforts to do whatever it takes to get products people buy online into their hands as quickly and easily as possible.
According to Raydiant's State of BOPIS Report 2021, "consumers demand convenience" in the age of COVID, which means they don't want to wait in line or spend valuable time wandering through a store. They want to pay digitally, avoid crowds, and be certain...stores have their items before they hop in their vehicle."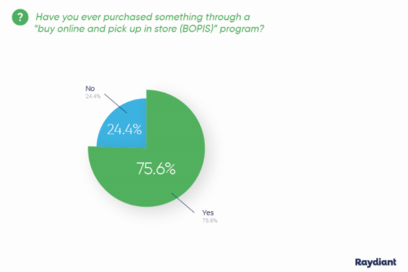 The same study reports that "Retailers are offering BOPIS as an option that's faster than shipping or delivery. (It) makes local brick and mortar locations attractive to convenience- and safety-driven customers while reducing shipping costs and moving products faster."
76% of consumers say they have used BOPIS at least once, and according to Adobe, 20% of shoppers are more likely to choose a retailer that offers local pickup solutions over one that doesn't.
BOPIS and BOPAC are not the only new click-and-collect offerings. 75% of merchants surveyed by Retail TouchPoints say in addition to the usual "buy via mobile or web site, ship to home", they're now also offering "buy online, return in-store" and "buy online, return to another store" options.
3. Convenience and "the endless aisle."
The 2020 Retail TouchPoints Operations survey says "clienteling" or "assisted selling" — where employees use mobile devices to help customers in one location find inventory in another location — is up significantly since last year.
This phenomenon, sometimes called the "endless aisle," meets the needs of consumers who aren't really ready to shop indoors. "Customers expect to get in and out of the store as quickly as possible, minimizing time spent browsing the aisles on their way to pick up an order. In-store technology helps bridge the gap between online and in-store sales, providing store associates with access to enhanced inventory visibility and product information." 70% of respondents say customers are more satisfied with an in-person shopping experience when digital enhancements expand one store to include the inventory of many.
4. Location data is valuable.
Another surprising artifact of the pandemic is a move towards more local marketing operations. It turns out that when people spend more time at home, they tend to think more about their local supply chain. According to Forrester Research, "consumers are gravitating to values-based organizations and paying closer attention to where and how products are manufactured. As a result, CMOs at global brands must pivot to 'multi-local operations' that support more local marketing approaches."
It also turns out that local marketing requires greater attention to digital profiles on a country-by-country, market-by-market basis than many retailers are used to. A one-size-fits-all corporate brand may not resonate anymore. As customers grow accustomed to more relevant and personalized marketing campaigns, marketers need more and different data to understand what's happening to sales at the local level.
The number of merchants who say they now track online-to-store conversion rates, for example, jumped from 7% to 34% YOY, and 40% say they're now monitoring reviews and comments about their company on social media channels.
5. Even digital brands can be local.
Direct-to-consumer (DTC) brands like Warby Parker, Bonobos, and Casper Mattresses have been market testing brick-and-mortar stores for a while. When online brands open a physical store, they're usually trying to increase brand awareness in densely populated target markets, or "show-rooming," which involves creating a branded environment for people to see and feel goods they can't touch on a website.
Innovative DTC brand The Grove Collaborative recently announced a new partnership with traditional retailer Target to sell its popular non-toxic, sustainable cleaning products. The co-marketing agreement gives one partner the ability to showcase its packaging and get goods directly into the hands of new customers. Meanwhile, the other partner gets exclusive rights to a desirable product line that appeals to a specific type of high-value consumer.
Local distribution partnerships like this one are an effective way for online brands to build customer loyalty and reduce acquisition costs by creating an additional marketing channel in high-traffic, high-density locations.
How CURA Resource Group Can Help
The pandemic changed everything we thought we knew about how buyers and sellers prefer to interact with each other, just as it fundamentally changed our definitions of "shopping" and "stores."
In essence, there are no more stand-alone physical store locations. Every store is connected to every other store, every store is connected to every website and mobile device, and every consumer touchpoint is an opportunity to shop, purchase, exchange, or return goods.
CURA Resource Group is in the business of helping merchants fulfill customer orders. We build high-volume local sales centers that are safe, welcoming, and highly visible, which helps our clients build local brand awareness and establish a strong community presence.
We're experts in staffing, operating, and promoting innovative fulfillment facilities where leading brands can "think global, but act local." And we offer proprietary custom software for buy-online-pickup-in-store or pickup-at-curbside.
Contact us today to discuss a cost-effective local fulfillment strategy that will get you closer to your customers and make product access a positive experience.
Related blog posts: