The biggest shopping event of the summer starts on July 12th.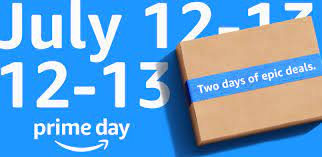 We've written about Amazon Prime Day before and you may be asking yourself, why are they so obsessed with an online sale? The short answer is that Amazon is the biggest retailer on the planet and everything they do sends ripples across the entire industry.
Prime Day, for example, started in 2015 as a way to attract new Prime subscribers and promote Amazon's private label offerings. Now in its seventh year, it has become a global phenomenon that drives billions of dollars in sales across hundreds of product categories during what used to be the slowest online shopping period of the year.
We think there's a lot to learn from this evolving e-commerce success story.
Lesson #1: Shopping events work
According to Digital Commerce 360, 2021 was the most successful Prime Day ever. Going strictly by the numbers, last year's event registered:
250 million items purchased
Shoppers from 20 countries
More than $11 billion in total sales (36% by small and medium-size retailers)
More than $17 million in sales per hour
And it's not just the sheer volume of sales that impresses, it's how Prime Day got so big, so fast.
From the beginning, Amazon has invested heavily to promote Prime Day deals early and often. They also strategically mine data from Prime members to deliver highly personalized offers on things they've already searched for. Now, having trained online consumers to pause shopping until there is a really big sale, they can pitch them the right offer at precisely the right time — which more often than not turns out to be Prime Days.
The impact of Prime Days has been so pervasive that Walmart, Target, Macy's, and hundreds of smaller retailers have been forced to offer comparable deals so they're not completely shut out of Amazon's annual summer blow-out.
Lesson #2: You can fight, or switch
Amazon didn't invent comparison shopping and overnight delivery, but they did perfect it. In doing so, they raised the bar for all retailers by elevating customer expectations. Now other merchants must match their standards or risk losing future sales.
Here are two ways your company can improve your omnichannel merchandising and logistics game:
Amazon is not without pain points – specifically returns. National retailer Kohl's also had a pain point, its consistently lackluster sales. In 2019, the two brands joined forces to allow Amazon customers to return unwanted purchases at brick-and-mortar Kohl's stores. In return, Kohl's got to stock and sell popular Amazon products such as Kindle and Echo.
The novel partnership brought millions of new, highly desirable Millennial shoppers into Kohl's stores and gave Amazon customers hundreds of local drop-off points for free returns.
Many brands like Payless Shoes and Bed, Bath & Beyond took years to launch e-commerce sites. Some formidable retail leaders like Sears and J.C. Penney never did succeed at melding their traditional and e-commerce operations.
On the other hand, Target and Walmart took full advantage of their brick-and-mortar locations during the COVID 19 pandemic to do the one thing Amazon can't: offer safe, convenient, buy-online-pick-up-in-store (BOPIS) service to make omnichannel shopping a practical everyday alternative to home delivery.
Target now fills 80% of online orders through its physical stores and says click-and-collect drive-up sales increased by 70% in 2021.
Lesson #3: Learn to operate at scale
More than 88% of Americans plan to shop during this year's Amazon Prime Days. That means even small direct sales and direct-to-consumer (DTC) brands must operate at scale to have a fighting chance in today's blended retail environment.
On the front end, you can market and sell through branded e-commerce sites and aggregators like Etsy - that's the easy part. The backend for fast delivery and free returns is a lot harder to manage.
In 2019, shopping platform Shopify announced that it would take a cue from Amazon and start offering 2-day shipping for DTC brands. The Shopify fulfillment network allows independent DTC operators to ship inventory to a Shopify warehouse for storage and distribution, where they can optimize SKU placement so that goods are closer to buyers.
According to Satish Kanwar, vp of product at Shopify, "We want to help more online-first merchants power physical retail stores, and more retail stores to run online – because ultimately, that will increase merchant success."
Local distribution specialists
Cura Resource Group specializes in helping retailers open profitable new markets in potentially hard-to-serve locations.
Our model combines the strongest assets of online and in-person order and fulfillment services in one place and we're known for opening fully staffed turn-key operations that make it easier to deliver fast-moving, time-sensitive inventory in challenging locations like busy airports and congested urban neighborhoods.
We can help any business operate a successful blended fulfillment operation at scale. Contact us today to find out if we're the right last-mile supply chain partner for you.
Related Blog Posts: