Contactless pickup is here to stay
Social distancing and contactless pickup are here to stay for the foreseeable future. At Cura Resource Group we're not surprised that a recent survey by Ipsos and USA Today concluded "more online, less in-store" is the clearest shopping trend so far since the COVID-19 pandemic rocked the world in early Spring. It turns out that most consumers aren't in a hurry to go back to the way things were.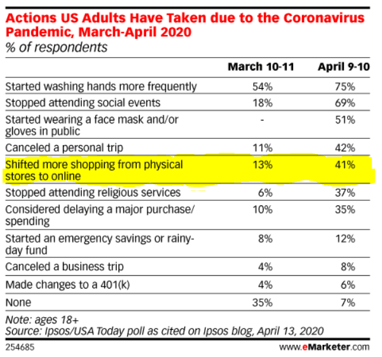 When people stopped going into stores, retailers had to up their fulfillment game and rethink the way they provide customer service. And because there are fewer opportunities to capture customers' attention with in-store displays or personalized shopping assistance, it's critical to make a good impression in the one or two minutes it takes to record and fulfill orders.
Right now, there's a lot of confusion about the best way to make curbside delivery a successful strategy for the long term. Here are three steps you can take to make the experience as easy and satisfying as it can be, given the circumstances.
Step 1: Communicate to set expectations for a smooth contactless pickup
Customers need education around where, when, and how to order for pickup. They also need to know what to expect when they get to a retail location. Gartner Retail Analyst Kyle Rees points out that "Few brands have been able to successfully communicate available in-store inventory to someone who's ordering online. They're struggling to...reflect what's actually available in-store, whether or not a product is going to be shipped on time, or even provide a clear estimated delivery time." That's an especially bad problem to have when most of us just want to know if a store has what we're looking for and when we can get it.
Now is a good time to do a thorough communications audit of your website, call trees, e-mails, and other outbound messaging. Make sure ordering and pickup instructions are accurate and easy to find. Check that signage at your physical location is clear and explicit about where to park, and if customers need to text you to alert you when they're in the waiting area, make sure the phone number is prominently displayed where they can see it from the car. Set appointments for in-store consultations or give a best estimate for when items will be ready for curbside pickup. A process that actually works the way you say it will is a good first step to getting customers used to your "new normal."
Step 2: Give employees the right tools
The lack of transparency into what's available, not to mention the stress of waiting in line with masks and hand-sanitizer, can create unintended opportunities to frustrate or disappoint customers who are already missing easy, face-to-face transactions.
The solution, according to Rees, is to make sure sales teams are properly trained to transition from selling and stocking shelves to handling traditionally back-end functions like checking inventory and prepping orders for pickup. Walk your employees through the entire process, from order entry, to pick-and-pack, to delivery and payment. Make sure they know what to say when answering the phone and how to answer customer questions at each step. If they have to enforce specific rules about personal protective equipment or social distancing, make sure there are plenty of signs to back them up.
Step 3: Keep that local personal touch even with curbside delivery
Retailers are adapting everything from marketing, to staffing, to IT infrastructure in order to support contactless commerce at scale. In the process, neighborhood stores are realizing it's difficult to retain the unique personal touches that make them special if every transaction starts to look and feel the same. At the same time, "pandemic porch pirates", capitalizing on both the surge in online shopping and the trend towards low-risk delivery (closer to the sidewalk and away from enclosed places), are creating new challenges for direct-to-consumer (DTC) brands that don't normally sell through a local storefront.
In times like these, it's the small and local businesses that will rebuild communities. Thoughtful communications and well-trained employees will be the key to maintaining human connections from behind our masks and plexiglass barriers.
Remember to keep a diverse customer base in mind when developing contactless strategies — adding bi-lingual sales associates and signage can be a game-changer in many markets. Even curbside interactions can be an enjoyable experience for both shoppers and employees if your team is confident and well prepared.
Ask us about the right way to manage contactless pickup
It's not a coincidence that Walmart reported a 45% year-over-year increase in downloads of its contactless payment-enabled app in March 2020. The Walmart's of the world have the resources to survive even a prolonged downturn. If you're looking to outfit and operate a professionally staffed, bi-lingual, turn-key local sales center — one that brings state-of-the-art contactless pickup capabilities to the heart of communities that need your products and services right now — Cura Resource Group can help.
To learn more, feel free to contact me directly or download our Direct Seller's Guide to Choosing a Customer Service Provider.