The new year inspires all o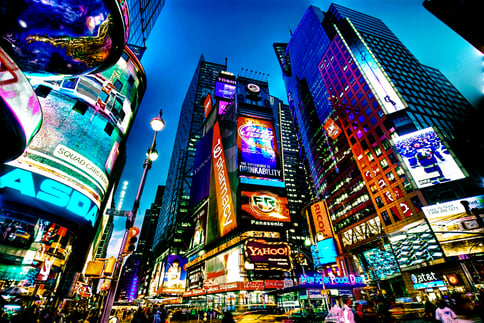 f us to make resolutions and — here's the hard part — actually achieve them. You know how it
goes: Fitness centers overflow with people who have resolved to lose weight in January. But how many of those people will be there in 3 or 6 months? Just a handful who have the resolve to see through their goals.
It's the same in business. E-commerce companies who have set their sites on expanding their customer base in 2017 must set clear goals, establish a business plan, and then carry it through to completion.
Let's look at one way to do that: focus on a customer-rich market and double down on your efforts to grow your customer base there.
The Big Three
The United States is the biggest consumer market in the world, albeit unequally distributed. Within our borders, there are geographical areas where the concentration of customers is staggeringly high. These are the markets that deserve your attention.
Our three largest urban areas — New York City, Los Angeles, and Chicago — account for 12 percent of the nation's population. If you add in the rest of the top 10 — Miami, Philadelphia, Dallas, Houston, Washington, DC, Atlanta and Boston — these markets account for almost a quarter of U.S. consumers.
And, just as importantly, these are the areas where the biggest population growth is occurring. They are the hot markets that are driving e-commerce growth.
Internet sophistication
Here's another important reason why you should focus your attention on urban markets. If you are an e-commerce business, your customers must be internet-connected. The United States has a fantastically high rate of internet connectivity — about 89 percent of U.S. residents have access to the internet.
But, just like the nation's population density, it's not equally distributed. Urban areas have a much higher percentage of internet-connected residents compared to rural areas.
So the takeaway is this: Urban areas not only have a high density of people, they also have a higher percentage of e-commerce customers. Urban areas are your e-commerce growth market.
Urban areas and the last-mile challenge
Urban areas pose some serious challenges for e-commerce businesses. Getting your goods to your customers — the so-called last-mile challenge — can be the biggest hurdle. And there's a growing expectation that purchases be fulfilled on the same day the customer orders. How do you tackle these problems?
Take a look at how some of the biggest names in e-commerce are increasing their market share in urban areas. Amazon is building fulfillment centers for same-day delivery in major markets, and experimenting with pick-up centers. Retailers like Kohls, Walmart and Home Depot encourage customers to buy online and pick up in stores. The idea is spreading to many e-commerce businesses that don't have a network of brick-and-mortar stores. For them, a viable option is turning to third-party providers to build and manage their pick-up centers.
Giving your urban-dwelling customers the option to pick up their items is the fastest growing trend in e-commerce delivery. If your New Year's resolution includes expanding your e-commerce presence in urban markets, be sure to include a pick-up center in your business plan.
Related posts
The High Cost of 'Free Shipping' and Last Mile Delivery
Getting Inventory to the Point of Demand
How to Meet Customer Demand for Convenient Delivery and Superior Service