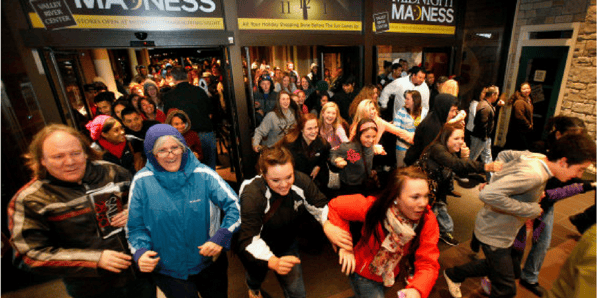 It used to be that Black Friday was the day of days for retail sales. Holiday revenue — and annual receipts for that matter — all hinged on luring huge crowds into stores on Black Friday. But the past few years haven't been kind to Black Friday in-store sales, including this year. The number of people who went to stores to start their holiday shopping slid downward once again.
Maybe it was the off-putting videos of deal-seekers stampeding through the doors of retail stores, or just the crowds in general. Either way, shoppers increasingly are turning to e-commerce stores — and a relatively new phenomenon, the customer pick-up center — to make their holiday purchases.
E-commerce is the new king of holiday shopping
Survey after survey is showing that the majority of shoppers are turned off by the cattle-car approach to Black Friday sales. Deloitte's most recent annual survey of holiday shoppers, for example, found that some 52 percent of shoppers say they don't rely on Black Friday in-store deals like they used to.
So how are they filling their shopping carts? Many are turning to online seasonal sales, as this year's Black Friday statistics prove. For the first time, the number of people shopping online on Black Friday exceeded the number of people who shopped in stores.
But here's the rub: Online shoppers are no longer satisfied with the purchase-and-wait approach. They prefer the convenience of shopping online but want fast, free delivery to boot. So how can retailers vying for holiday business respond?
A customer pick-up center meet demands for quick delivery
Some retailers have utilized a two-pronged approach — they offer online shoppers some bargain incentives to make the sale, then let them choose to have their items shipped or available for pick-up at the store or a nearby customer pick-up center.
People are responding to the pick-up-center phenomenon because it can speed up delivery, and it ensures safe delivery for those who live in hard-to-deliver-to areas or markets where packages may be stolen from doorsteps. It's also cost-effective for businesses.
Kohl's strategy for this holiday season, for example, involves dramatically ramping up its in-store pick-up system. Why? It cuts shipping costs; it gives customers the instant satisfaction of picking up their packages at their own convenience; and it increases sales. Kohl's found that for every $100 of online sales that were picked up at a store, the customer bought another $25 worth of items in the store itself. That brick-and-mortar solution to e-commerce shipping issues actually resulted in improvements to the bottom line.
The foot-traffic aspect of Black Friday is a waning phenomenon, one that's being supplanted by a customer pick-up center approach. Businesses looking to win holiday shoppers need to look at the changing habits of their customers — habits that require a robust online shopping website, an efficient shipping system, and, when possible, a convenient place for customers to pick up their purchases.
Related posts: