Here are the top 5 supply chain issues that were top of mind for business aviation companies at this year's NBAA conference.
The National Business Aviation Association (N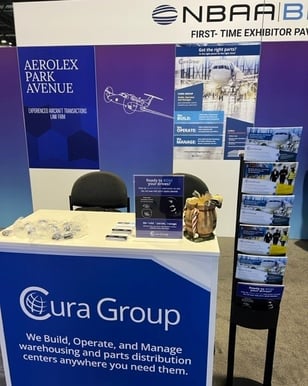 BAA) is the leading organization for companies that rely on general aviation aircraft to help make them more efficient and successful. According to their website, the vast majority of businesses in this community – 97 percent – are small- to midsize operations.
Last week, the NBAA held its annual business aviation convention in Orlando, FL. Even though Hurricane Ian blew through town just days earlier, it wasn't enough to knock the show off course.
Cura Group was there to meet some of these smaller companies and find out what's keeping their aviation supply chain professionals up at night.
Here are the five things we heard most often from the people who visited our booth in the exhibition hall:
1. Help us do a better job controlling costs!
Small and midsize aviation businesses were grappling with price increases caused by COVID-related supply chain disruptions even before the onset of worldwide inflation. Today, parts sellers tell us that rising costs and lagging supply chains are slowing their sales and reducing their margins.
2. Is now the right time to outsource warehousing and logistics?
Pandemic-related staffing shortages have been almost as disruptive as manufacturing and shipping delays. Picking, packing, and fulfilling orders take more time when there are fewer people to do the work. This is leading many aviation suppliers to question whether they can, or should, continue to manage inventory themselves.
According to the NBAA
, low inventories and longer fulfillment times are a worst-case scenario for the entire business aviation industry.

3. Where is the best place to hold our inventory?
In our last blog, we discussed what to do when slow-moving inventory takes up too much space in your warehouse or maintenance facility. One solution is to store extra parts in a fully staffed distribution center close to wherever your manufacturing, repairs, or maintenance gets done. Conversely, if you're a parts seller, you want to hold inventory within a few miles of where customers need it so you can fill orders quickly.
Smaller aviation companies told us they understand the benefits of off-site storage, but they don't have the time or real estate management experience to find an appropriate location, negotiate a lease, and set up a successful fulfillment center on their own.
4. Industry consolidation is making it harder for the little guys.
Every part of the aviation industry — aircraft manufacturing, parts supply, logistics, maintenance, and repair — is consolidating. Larger companies see an opportunity to get even bigger by adding new verticals to their portfolios in order to enhance sales, and bring more value to more customers. Smaller independent companies, on the other hand, are struggling with rising costs, employee turnover, and weak supply chains. As the "bigs" get bigger, the small guys tell us they need help from expert partners in order to stay competitive.
5. Who can we trust to help a business like ours?
If we heard it once, we heard it a dozen times: smaller business aviation companies need a logistics partner they can rely on to take the daily responsibilities of building, operating, and managing a modern fulfillment center off their plates. Everyone needs to move critical inventory faster. No one wants to add designing and operating a customized storage and distribution facility to their "to-do" list.
About Cura Group
According to industry watchers at FlightGlobal.com, supply chain bottlenecks may soon be the single biggest threat to private aircraft manufacturers and service companies trying to meet the growing demand for new business jets after the pandemic.
Cura Group offers a variety of pricing models and custom warehousing solutions to help small and medium-sized aviation specialists – and other small to medium retail, manufacturing, and distribution businesses – stay competitive.
Contact us to find out how we design and operate the storage and fulfillment solution you need, exactly where you need it, at a price that fits your budget.
Related Blog Posts: