And why walk-in customer pick-up centers are a gift that keeps on giving.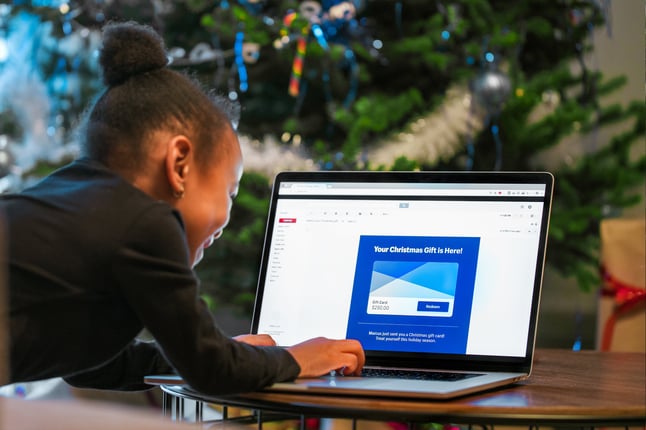 We thought about posting this blog last month, but the Autumn sun was still warm and it seemed too early to talk about Christmas before we'd even had a chance to enjoy Halloween.
Retail planners, however, have been thinking about how to prepare for a successful holiday shopping season for months now, and industry analysts have been crunching their numbers for 2021 holiday sales forecasts.
It's a difficult year to make predictions for many reasons, not the least of which is the continuing consumer ambivalence about shopping in public places as well as the unforeseen challenges to the global supply chain. Still, many gave it their best shot, and the consensus for Christmas 2021 seems to be "cautiously optimistic."
First, the numbers
We've been studying a variety of forecasts from reputable analysts. While it won't be a stellar year for holiday sales, everyone agrees the numbers will be better than last year. From a low of 3% to a high of 11% growth year-over-year, people who know about these things say sales will be higher even if we're still not ready to go all-in on holiday cheer. On average, industry analysts are looking for between 7% - 9% growth in total sales for the period between Thanksgiving and Christmas.
When it comes to sales channels, the big winner will be e-commerce, which some predict will grow by as much as 18%. That's mainly because we're not out of the woods with Covid and it's unlikely that consumers will ever go back to shopping the way they did before. Nearly ⅔ of shoppers say "shopping this year will be more like last year than the pre-pandemic 2019 holiday season," according to industry watchers at The NPD Group.
This does not mean, however, that we're all staying home. Given the opportunity, most of us still prefer to shop in person. Almost 60% of shoppers say they're ready to go back into stores thanks to Covid vaccines. In addition, retailers adapted to the pandemic with creative fulfillment options like buy-online-pickup-in-store (BOPIS) that turned out to be useful even when we don't have to practice social distancing, making a return to brick-and-mortar locations the best of both worlds. As McKinsey Consulting points out, "Omnichannel shopping is ascendant with about 60 to 70 percent of consumers across categories shopping/researching both in-store and online."
Merry, but not too merry
The numbers also show that we're not all on the same page when it comes to shopping this year. Not surprisingly, younger people and people with more disposable income are more optimistic about the holidays than older people or those with less money. In general, economists say many people sitting on the savings from all the things they didn't buy last year are ready to splurge now, but many others are still concerned about an uncertain resolution to the Covid crisis and its effects on the supply chain.
Marketers point out that growth in holiday sales is likely to be uneven between categories, and brand loyalty may not be as important this year as it was in years past. Retail categories like apparel, cosmetics, pet goods, and electronics that had strong e-commerce penetration before Covid will see a positive trend in online sales. But the real growth will be in low-penetration categories like home stores, drugstores, grocery stores, and restaurants that recently invested in e-commerce to make it easier for shoppers to "skip the store" and buy from home.
This is a strange time for retail brands. Easy access to goods at a fair price has become more important than brand preference. Some shoppers who became more attuned to social and equity issues during the pandemic are choosing brands they perceive to stand for something they already believe in. There's also a growing concern that the potential for stock-outs could be the biggest determining factor of where people shop for holiday gifts. According to McKinsey, "among the 60 percent of consumers who have faced out-of-stock products in the last three months, only 13 percent say they waited for an item to come back in stock. About 70 percent switched retailers or brands instead."
What does it all mean?
Net-net? It feels like the 2021 holiday shopping season may not be the best — but it could be worse. We're all still unsure about what the future holds, and analysts have mixed feelings about the strength of the economy, but here are our big takeaways:
Consumers will shop earlier this year because they're worried about stock-outs, and retailers are starting holiday sales earlier to accommodate them.
Some consumers will increase their spending on gifts this year, but many won't.
Many of us are still wary about going back into crowded stores and we're happy to use online alternatives.
We're all re-thinking what makes us choose one brand over another. Many people will switch loyalties based on ease of access, omnichannel fulfillment options, or value-based corporate missions.
Overall, holiday sales numbers will be lukewarm — they won't go down but they won't go up appreciably. Still, e-commerce channels will see impressive growth.
About CURA Resource Group
It's obvious that reliable e-commerce fulfillment is essential to a successful retail channel strategy. Cura Resource Group's innovative sales centers offer a unique turn-key alternative for traditional stores and websites that rely on remote warehousing and over-the-road shipping to deliver online purchases.
Our local sales centers distribute inventory in diverse, bi-lingual neighborhoods without the need to devote costly real-estate to front-of-the-house merchandising. Shoppers can buy online and wait for delivery or stop by a fully branded neighborhood location to pick up and return goods at their convenience. We'll hold your inventory on-site to avoid stock-outs and overcome last-mile delivery problems like porch piracy. We'll even help you choose a location, negotiate a lease, and hire, train, and manage your staff.
Contact us today to find out how a walk-in customer pick-up center can simplify your omnichannel fulfillment at the holidays (or any time of year), and have a safe and happy Thanksgiving!
Related Blog Posts: