Small and medium businesses are adapting to changes in the global supply chain, and so is Cura Group.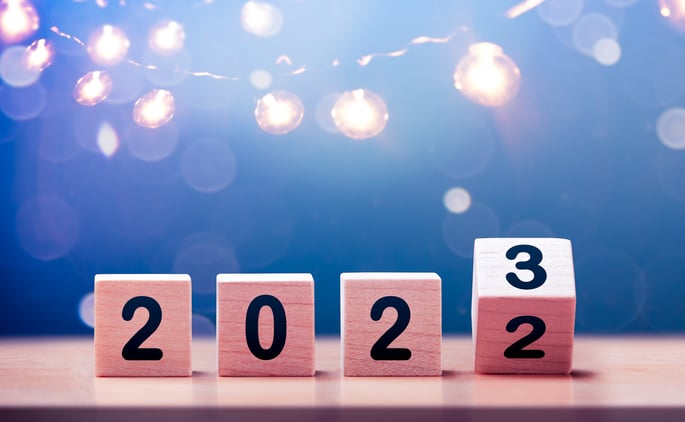 If we had to come up with one positive thing to say about experiencing a global pandemic in our lifetimes, it would have to be our newfound appreciation of industry's ability to continuously find new and better ways to get things done. And if 2020 was the year we all first experienced COVID quarantines and remote everything, then 2022 was the year when we shook it off and moved on.
It hasn't all been smooth sailing, of course; the economy faced many new challenges this year, including worldwide inflation, ongoing uncertainty about the workforce, and lingering supply chain disruptions caused by a totally unexpected war in Europe.
Many experts say smaller businesses are being impacted by these problems at a disproportionately high rate. But lots of small and mid-sized companies — including ours — didn't let the last few years stop us in our tracks. Instead, we got a loud wake-up call to take a hard look at what we've been doing and invest in new strategies to make us stronger than before.
The interconnected global supply chain
As the global economy continues to evolve, small and medium businesses (SMBs) face new hurdles in the realm of supply chain management, ranging from difficulties sourcing raw materials and components, to disruptions in transportation and last-mile distribution, to issues with inventory management and forecasting. These challenges can seriously impede their ability to compete with larger, more established companies.
91% of SMBs say larger companies have an advantage in procuring inventory

50% say the top factor hurting SMBs is that they lack prioritized vendor status

46% say at least one vendor has dropped them for reasons specifically related to being a small business

Source: https://www.softwareadvice.com/resources/small-businesses-left-behind-in-retail-supply-chain-crisis/
Big companies already have natural advantages in procuring inventory because they typically place large orders, which makes them seem less risky to suppliers. They also have more resources at their disposal, including comprehensive supply chain networks and access to better technology. As a result, SMBs often struggle to achieve comparable levels of quality and consistency when it comes to purchasing, warehousing and distribution, and fulfillment.
In addition, e-commerce and a growing reliance on global trade mean the supply chain is more intricate and interconnected than ever before. This makes logistics more complicated for everyone. Economic interdependencies make it difficult for SMBs without the necessary experience to navigate effectively and increase the chances that a natural disaster, political instability, or some other unforeseen event will create delays and problems that strain their operations and the bottom line.
New strategies to improve supply chain operations
Fortunately, with some extra effort and creativity, some SMBs are finding accessible and cost-effective ways to stabilize their supply chain. Here are some ideas we support:

1. Join forces with other small or larger companies, or consider consulting an experienced logistics expert. By working together to place larger orders that meet minimum size requirements, SMBs can share resources and find new opportunities to scale supply chain operations without breaking the bank.
2. Invest in technology. Advanced supply chain management systems and other digital tools can help your smaller business refine forecasting models, improve inventory management, and upgrade other key processes.
3. Provide training and support to upskill employees to use those tools; it improves worker satisfaction and retention and helps your team better understand and manage critical logistics activities.
4. Try a "just-in-case" inventory model. Consider storing more inventory than you're used to so it's on hand when needed.
We're in this together
New technology and a shared knowledge base can make it easier for SMBs to be more competitive, however, not every business owner knows where to begin when it comes to transforming their supply chain. And many (most) don't have the skills and expertise to succeed on their own.
Earlier, I mentioned that Cura Group has been reinventing our own business model: our new mission is to provide affordable, custom logistics solutions for small and medium businesses, wherever they need them.
Our vision is to offer SMBs the assistance they need to compete in a global market by building, operating, and managing individual or shared fulfillment centers. This way, you can focus on procuring, selling, or repairing parts and supplies while we concentrate on modernizing your warehouse and distribution channels.
We launched our new model this year by expanding our capabilities to service aviation parts distributors in addition to our existing customer base of e-commerce and direct-to-consumer retailers. In the future, we plan to work with pharmaceutical companies, automotive parts suppliers, and any SMB that wants to optimize their inventory and reduce fulfillment times by storing parts and supplies near where they're needed.
About Cura
Our collaborative local distribution model offers small and medium businesses access to the supply chain resources and technology they can't otherwise afford.
Contact us to see if our efficient turn-key distribution centers are the right solution to keep your small medium-sized business moving forward in the year ahead.
Related Blog Posts: