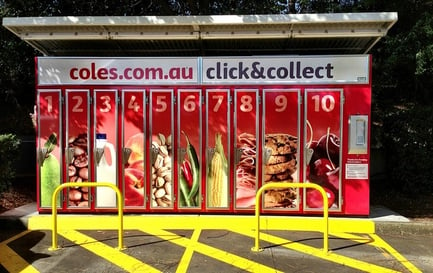 Here in the United States, we seem to have a real soft spot for things that are trending across the
pond in the United Kingdom.
Just think about some of the most popular shows on American TV — "The Office," "Antiques Roadshow," "House of Cards," "American Idol," "Hell's Kitchen," "Dancing With the Stars," "Undercover Boss," "Who Wants to Be A Millionaire," and "Wife Swap." Every one of them was copied from a popular TV show in the UK.
And now we Americans have commandeered an emerging e-commerce phenomenon first identified by our neighbors abroad called "Click and Collect." You may have heard the concept under another moniker — such as in-store pickup. Either way, if you're an e-commerce business owner, it's a concept you should know and embrace.
What is Click and Collect?
In a nutshell, "Click and Collect" enables online customers to order their items through a website and pick them up at a nearby retail store, an automated locker system, or a customer pick-up center.
It's built for customers who don't want items shipped directly to their doors. Maybe they live at a hard-to-deliver address like a high-rise apartment building, or they don't want their item left unattended on a doorstep or lobby. They might prefer to pick up the package on their own schedule, rather than adhere to the shipper's delivery schedule.
Regardless, Click and Collect answers a fulfillment option that customers want. But it also challenges businesses to rethink their inventory, logistics, and supply chain strategies. This is particularly true for e-commerce companies without an existing brick-and-mortar presence.
Solutions for e-commerce businesses
If you are like many e-commerce businesses that are responding to customers' demand for free shipping, Click and Collect frees you of most of that expense. But it also requires that you build up some new infrastructure in the places where your Click and Collect customers live. After all, they need somewhere to collect.
Again, we can learn some lessons from our colleagues in Britain, who are way ahead of us in this.
A Deloitte study of this phenomenon in Britain and Europe found that the vast majority of 500,000 Click-and-Collect locations were either automated locker systems or customer pick-up centers operated by third-party vendors.
Deloitte, which describes the UK as Europe's "most mature" e-commerce market, expects that less-developed markets (I think they probably mean us Americans) will see the UK model for Click and Collect spread.
The UK has produced some great TV shows that we've seamlessly integrated into our American culture. Now we're importing Click and Collect, and we're making it our own.
What's your "Click and Collect" strategy?
Related Posts: