Most consumers don't spend much time thinking about the innovations that make it easier and more convenient to buy things. They simply adapt to a steady stream of new tools -- like digital wallets, mobile apps, and on-site delivery services -- as they come along.
But people who make their living thinking about retail and last-mile logistics understand there is a massive technology infrastructure at work behind the scenes, continuously upgrading shopping experiences by enabling transactions from anywhere at any time. If you're one of those people, you also know the pandemic that began in 2020 lit a fire under many brands whose e-commerce and fulfillment strategies were behind the curve. In fact, turbo-charged digital transformation initiatives and ingenious channel partnerships may turn out to be some of the few silver linings for retail after two years of COVID.
Necessity really is the mother of invention
The old "retail wars" between online DTC merchants vs. brick-and-mortar legacy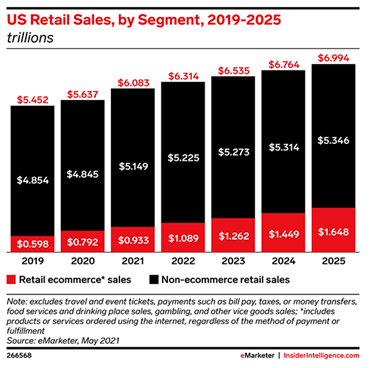 brands are over. eMarketer reports that e-commerce, which represented just 12% of total U.S. retail sales in 2019, is projected to be 18% of sales this year and 30% of total sales by 2025, in large part because of how society at large adapted to the realities of COVID-19.
Global e-commerce sales increased to $26.7 trillion last year as even the smallest local shops discovered that blended physical/online sales channels are a necessity, not an option.
The entire retail industry is evolving in ways we could not have predicted. For years, it's been possible to buy virtually anything we need, well, virtually… but prior to the pandemic, the idea that millions of people would go months without setting foot in a physical store was inconceivable.
When brands are transactions, not real estate
As a result, the straightforward proposition that a brand is a retailer and a retailer is a store is no more. In today's world, it's the transactions themselves that matter, not where they occur. So, when is a store not a store? We came up with a few real life scenarios.
1. When it's a delivery service.
At-home delivery was
the
breakthrough shopping service last year, for everything from groceries to liquor, to restaurant meals. Instacart is projected to own 20% of the overall e-commerce grocery market, worth $35 billion in sales by 2023. DoorDash, which delivers for restaurants that never used to offer delivery, tripled its sales in 2020 and is forecasted to account for 50% of U.S. intermediary take-out sales by as early as next year.
2.
When it's a mobile device (or a website).
Amazon disrupted traditional bookstores by selling comparable inventory through computers. Then phones got smart and became computers too; now we can buy things using our mobile devices. When DTC brands like Warby Parker and Casper Mattress began to flourish, traditional retailers rushed to add e-commerce to existing brick-and-mortar channels, pushing DTC brands to open physical stores. Now the store is the website, and the website is the store, and transactions can start in one channel and end in the other.
3. When it's a store inside another store. Last Spring, prestige beauty retailer Ulta announced it plans to offer a full-service branded shopping experience inside eight hundred Target stores and hosted on Target's website. Target has always promoted beauty brands as a key differentiator in the value retail segment. Now Ulta will offer a more upscale assortment of cosmetics alongside Target's everyday lines. Ulta team members will be available to offer tips on seasonal trends and how to get the latest look. It's a more personal shopping experience that suits fans of both brands.

4. When it has anything to do with Amazon.
Amazon continues to break every mold there is when it comes to retailing. Its third-party marketplace is an industry-leading platform for small businesses that sell and fulfill orders using Amazon's AI-driven recommendation engine. Amazon Web Services (AWS) offers digital tools to power "smart stores" that reside in the cloud and compete using agile e-commerce services and intelligent supply chain technologies. Back in the terrestrial world, Amazon Prime members can get exclusive in-store savings at Whole Foods, or shop at Amazon "Just Walk Out" stores. There are no lines or cashiers at Just Walk Out locations. Instead, shoppers walk in, grab their items, walk back out, and wait for a charge to appear on their credit card statement – unlike any stores we used to know.
5. When it's a local pick-up experience.
Cura Resource Group specializes in building and managing local sales centers in densely populated urban areas. Our customers can order online and pick-up in-store or wait for delivery at the curb. They can visit our neighborhood sales centers for a new product launch or a sales seminar, or just to return unwanted items on their way home from work. Our hybrid sales and customer service model helps online businesses avoid local delivery challenges such as porch piracy while increasing convenience for their customers – like a store, but better.
About CURA Resource Group
The pandemic ushered in a new era of creative marketing concepts and third-party distribution models designed to create the best possible shopping experiences through any channel. We applaud this new marriage of digital and physical products, services, and sales channels because it doesn't really matter if the brand is the store. Our job is to help retailers meet their customers wherever they are.
Contact us today to discuss a local last-mile delivery strategy to get closer to your customers.
Related Blog Posts: